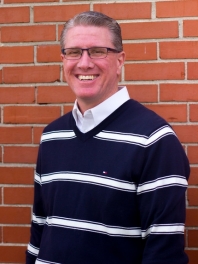 Rick Williams, Senior Pastor
work: 757-397-1995
Email: pastorrick316@yahoo.com
Rick was born and raised right here in the City of Portsmouth. He began his relationship with Christ at the age of seven years old when he accepted Christ as Savior. From there his mother, a strong believer, faithfully took him to church as it has been said "every time the doors were open." At eighteen, he publicly surrendered his life to Christ to go and do whatever God led him to do. He began teaching at his church at the age of nineteen.
He worked in the architectural profession for thirteen years before God spoke to his heart one night at a church mission's conference impressing upon his heart to leave his career and become a preacher of the gospel.
Rick graduated from Central Baptist College. He began pastoring his first church in 1996. He has nineteen years of preaching and pastoral experience. He has been invited to preach in approximately thirty churches as conference speaker, evangelist, and revivalist. He has spoken internationally in the country of Romania helping to lead revivals and pastoral training. His ministry experience includes church re-starts, church planting, church spiritual renewal, marriage conferences, and church growth.
Since February 2004, Rick has been the host and Bible teacher of the "Renewed Strength" radio broadcast on WWIP 89.1FM throughout the Hampton Roads Virginia area.
In 2012 God impressed upon his heart the mission field of Portsmouth, Virginia. God opened a door to provide a church building and in September of 2013, he and a small group of believers launched CrossLife Church to reach a spiritual need in the Portsmouth community.
Rick's calling is leading people into an authentic relationship with Jesus Christ by the preaching and teaching of God's Word in a manner that people learn the truths of scripture and can apply what they learn to their everyday life.
He frequently asks the question, "How can a person know God?" By knowing and learning the Word of God. He is committed to rightly dividing the Word of Truth.
Rick believes, "Through Christ one person can make a difference, and you, yes you, are that one person"
Outside of serving Christ and others, Rick enjoys sports and automobile drag racing.
Rick continues to reside in Portsmouth, Virginia with his wife of 35 years and their four children.